Hikers experienced or not, young or old, children or the elderly… there is room for all at the Refuge du Pic du Mas de la Grave.
Half-board is the best way to take full advantage of the refuge. It includes a dinner at 7pm, a night in a small comfortable dormitory, a good breakfast, a shower (2min), and time to "chill" on the terrace/play/read/observe the nature and the majestic Meije in front of you.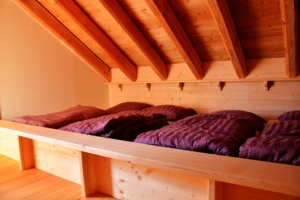 DORMITORIES
Whenever you arrive, we welcome you and show you your dorm so that you can put you belongings and rest.
We separate groups in the dorms as much as possible, but depending on bookings it can happen that you share a dorm with another group.
Dorms are simple, nice and all wood-made, with storage, and more importantly with good matresses, pillows and  covers.
It is mandatory to bring a sleepingbag-liner  for healthy reasons in order to respect everyone (we can sell one for 10€).
RESTORATION
Dinner is served at 7pm.
Be sure to arrive a bit before to have time to lay down your belongings and to take a shower (if wanted).
Dinner is composed of a soup, some cheese, a main meal and a desert.
Breakfast is a buffet with all you need to start a good day : bread, butter and jam, cereals, tea coffee or milk, cakes, but alse some ham and cheese.
Usually taken between 7am and 8.30am, to check with the wardens the night before.
Picnics can be asked, please at least the day before 🙂
FREE TIME/CHILL
You can enjoy the small cozy living room, some instruments (piano and guitare), games and books that we have here.